Planned obsolescence is theft. That's the perfect distillation of my feelings on the topic. If I spend my hard earned money on a product I don't think the manufacturer gets to tell me when I have to stop using it. And yet, there are countless cases of this:
Don't get me wrong, I'm not some crazy person who thinks Apple should still be selling parts for the Apple II+ my uncle has in his attic. There does need to be a line drawn somewhere; just don't ask me where.
Ask yourself this: If you just spent $5,999.00 USD for a MacPro (that's the base model, with no upgrades), would you feel a bit ripped off in seven years when Apple won't even sell you replacement parts?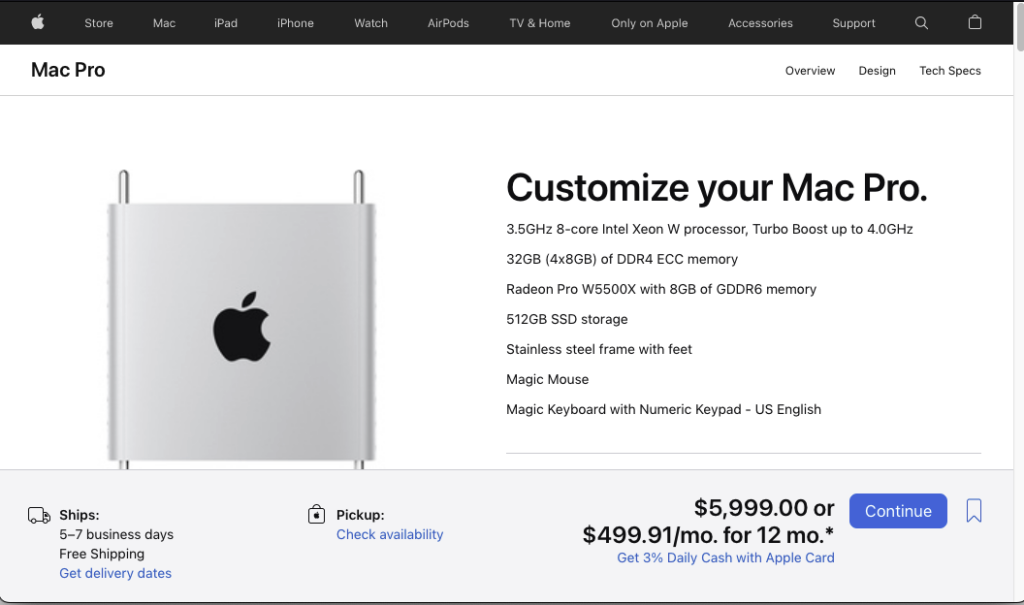 What if you were really crazy and bought a full decked-out Mac Pro for a whopping $54,384 USD? Yeah, well, Apple is still going to cut off your support in seven years.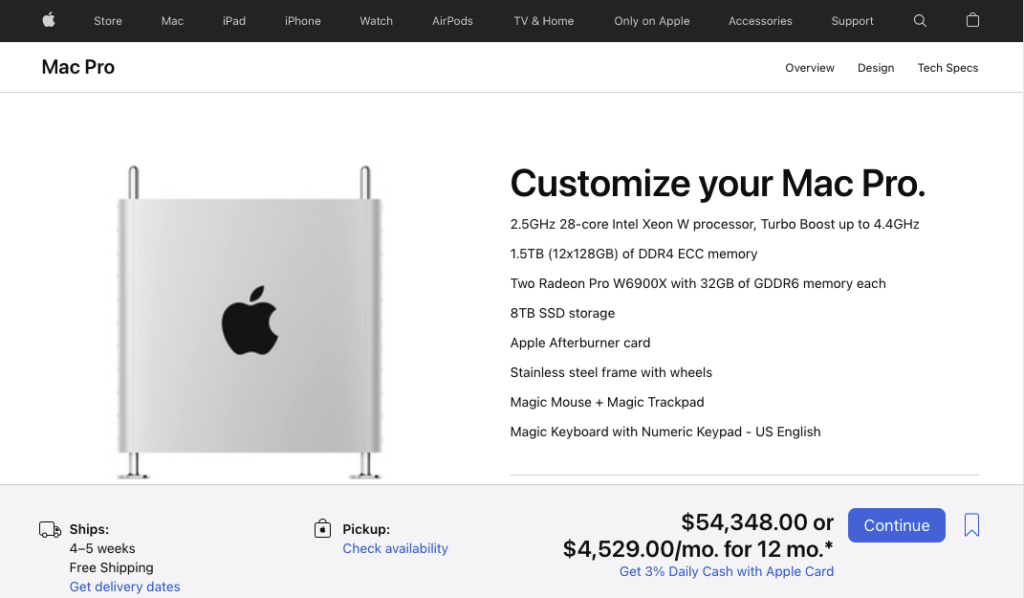 The thing is, everything Apple sells with a Pro moniker comes with a premium price, and it doesn't seem too outlandish to expect them to support these products for a reasonable amount of time. What makes for a reasonable amount of time? I'd say that if a bunch of hobbyists on the internet can support a product, then one of the world's most valuable companies can probably manage it as well.
For instance, I have a Mid-2010 Mac Pro (MacPro5,1). The last supported OS for this model was Mojave, but some of the nifty features like Handoff were expected to be broken since Yosemite due to the Bluetooth module used in this model. Apple would have you believe that the Bluetooth incompatibility was un-fixable, and that no OS past Mojave will work on this model. And yet… via a series of upgrades over the years, I've got this twelve year old machine running Monterey just fine, and even Handoff works. So much for impossible.
I owe a lot of my machine's lifetime to the folks at macvidcards.com, who have been providing custom flashed video cards, and other bits, for years. While you technically don't need a Mac EFI driver flashed video card to run most versions of MacOS, you do need it if you encrypt your boot drive with FileVault or you won't get the screen to unlock the drive's encryption. For a security wonk such as myself, full disk encryption is absolutely necessary. So far, I've installed the following upgrades:
So, all of that got me up to Mojave. I did have some fun little issues, like MacOS claiming that FileVault was not supported on my Mac Pro and refusing to encrypt my drive after installing Mojave. I solved that by moving my SSD to an external enclosure, booting my laptop on it, and enabling FileFault. Funny, my Mac Pro booted from that FileVault drive just fine, and hasn't had a problem since.
My adventures have not been without pitfalls, though. The roughest being when I installed Big Sur, because that point I had to give up using VMWare Desktop. The version of VMWare Desktop I ran under Mojave wouldn't run on Big Sur, and pointed me to a newer version. That newer version would not run on my hardware because my installed CPUs lacked a particular instruction set. This was a bit of a blow, particularly because when I tried Parallels Desktop it would seem to import my VMWare systems, but then they wouldn't boot. So far, there doesn't seem to be a way around this. If you've got any suggestions, please comment below!
Up until this point, I thought Big Sur was as far as I'd be able to take it. Shoehorning Big Sur on had taken experimenting with a few different EFI bundles, from several forum and blog posts, where the takeaway was that Monterey was too problematic. But then… I saw this slashdot post: Devs Make Progress Getting MacOS Venture Running On Unsupported, Decade-Old Macs
I was aware of OpenCore, but I couldn't recall if I'd come across the OpenCore Legacy Patcher. Reading through the docs, it looked pretty simple. Could it really be this easy? I deviced to give it a try and dropped a spare SSD into my machine. I'm not going to detail the steps I had to go through, as they are all very well documented here, but I will say that an hour later I had a functional Monterey installation on my Mac Pro complete with hardware graphics acceleration for HVEC and h.264 encoding!
OpenCore Legacy Patcher is proof that my twelve year old Mac Pro is capable of running modern MacOS, and that Apple's planned obsolescence is not a technology issue.